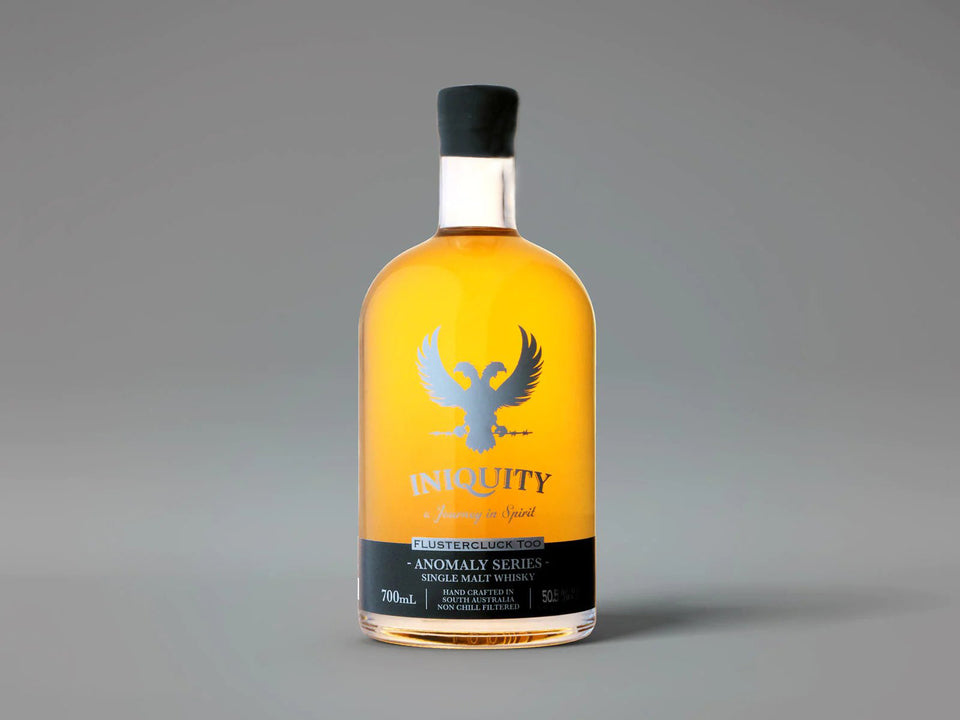 Iniquity Whisky Anomaly Series — Flustercluck Too
ASFLUSTER2-700
Tasting Notes
Colour
Dark straw gold

Nose
Honey on burnt toast, varnish, lemon zest, woody campfire ash, danish pastry, redgum smoke, lollies, sea spray, licorice all sorts and musk lollies.

Palate
A lively lemon sherbet on a light but full mouthfeel.  Some early alcohol burn commensurate with the 52% ABV that fades quickly.  Floral notes, interrupted by waves of smoke.  The balance would be perfect if the waves of flavour didn't keep coming and going.

Finish
The finish is interesting with white pepper initially, followed by burnt, BBQ'd pineapple.  After fading to a mild finish it comes back with late waves of earthy smoke and either plasticene or licorice.  With a few drops of water this dram reaches a new level.
Provenance
50% ABV
3 years in 2 x 100 litre American Oak Port casks, featuring Parawa peat smoke, then married with some 4YO French Oak cask, un-peated.
Comment
Anything but boring, Flustercluck Too is a well balanced and delicious whisky that  leaves you wanting more.  Unlike the original Flustercluck, F2 is not the result of a series of stuff ups; we knew exactly what we were doing this time around.  We just stuck with the name because we like it.  Flustercluck Too is a rare whisky that makes you smile before you even open the botte.