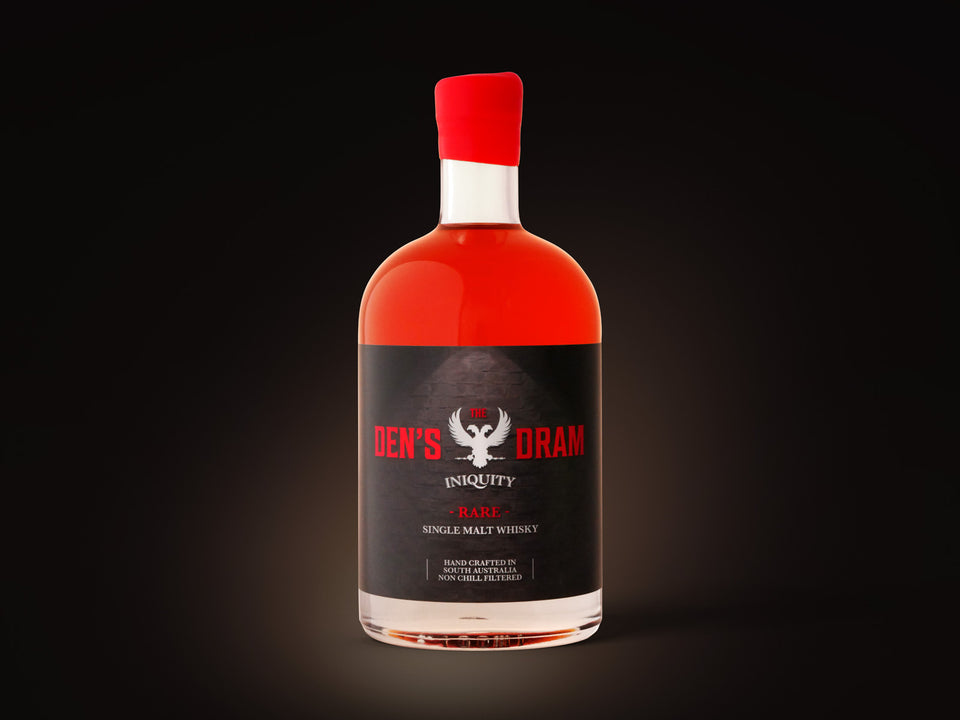 Iniquity Den's Dram – Bengal Lancer
DDBENGAL-700
The Bengal Lancer - An unusal Den's Dram
Not many people appreciate that Vic and Ian have been making whisky longer than Starward, in fact longer than any other mainland Australian distillery except Bakery Hill. Over the last 18 years the boys have gained a bit of a reputation for producing outstanding, world class whiskies, particularly when they involve smoke. It is fair to say they have learnt a bit in their journey in spirit.
Four of the barrel remnants from "Pirate Girls" were married and filled into a 4th fill, 100 litre, French Oak ex port cask, that had held a mysterious, limited release, independent bottling. That choice of cask for further maturation is the secret to the name, and to the unique and very interesting flavour profile of The Bengal Lancer. 
The mysterious previous spirit in the cask was in fact distilled beer.  A whisky made from distilling a heavily hopped IPA, made by Jade at the Wheatsheaf Hotel in Adelaide.  Once you know this you can just detect the faintly floral hop notes.  Historically the IPA's were developed for the Imperial Indian troops stationed in India.  The highly hopped ales survived the long sea voyage to India better than other styles of beer, hence the name India Pale Ale.

We only filled 100 x 700mL bottles of The Bengal Lancer and they are only available right here through our virtual cellar door. Normal members' discounts apply. This bottling will be delivered in the Iniquity Z-Box that provides exceptional product protection whilst in transit.
Tasting Notes
Nose
The nose is very busy with rose hip syrup, some floral notes, varnish, furniture oil, dark chocolate, milk chocolate, lemonade lollies and orange finishing up with some elder-flower.
Palate
The mouthfeel is smooth and even. The balance very good. The flavours are so well integrated and homogenised that the only discernible one is Turkish Delight. The weight of the spirit at 43.7% ABV is perfect for easy enjoyment.
Finish
The finish is sweet with highlights of Chinese 5-spice, more Turkish Delight and tangy orange marmalade. Just when you think it is all done and dusted you get hit with a note of raw hide that comes from nowhere, and finally more marmalade.
Provenance
French Oak, 4th fill ex-port cask.
4 Year Old
43.7% ABV  

Comment
This Dram is worthy of careful and considered appreciation. This is not a beginners whisky, it is as challenging as you want it to be, or as easy drinking as you need it to be. It is not characteristically Iniquity in nature, but still mighty tasty.