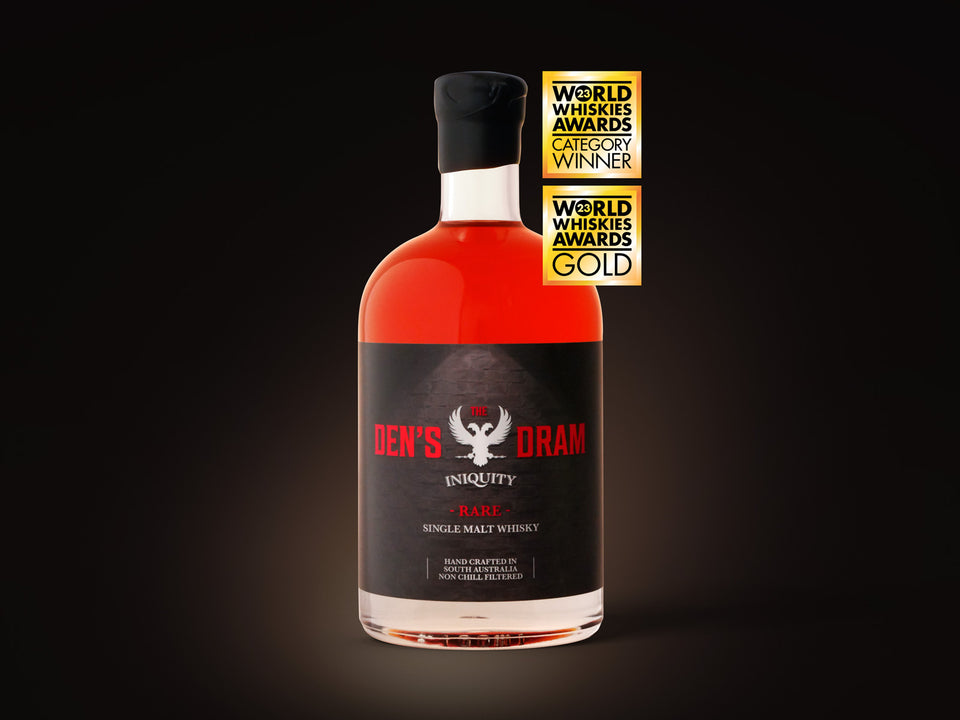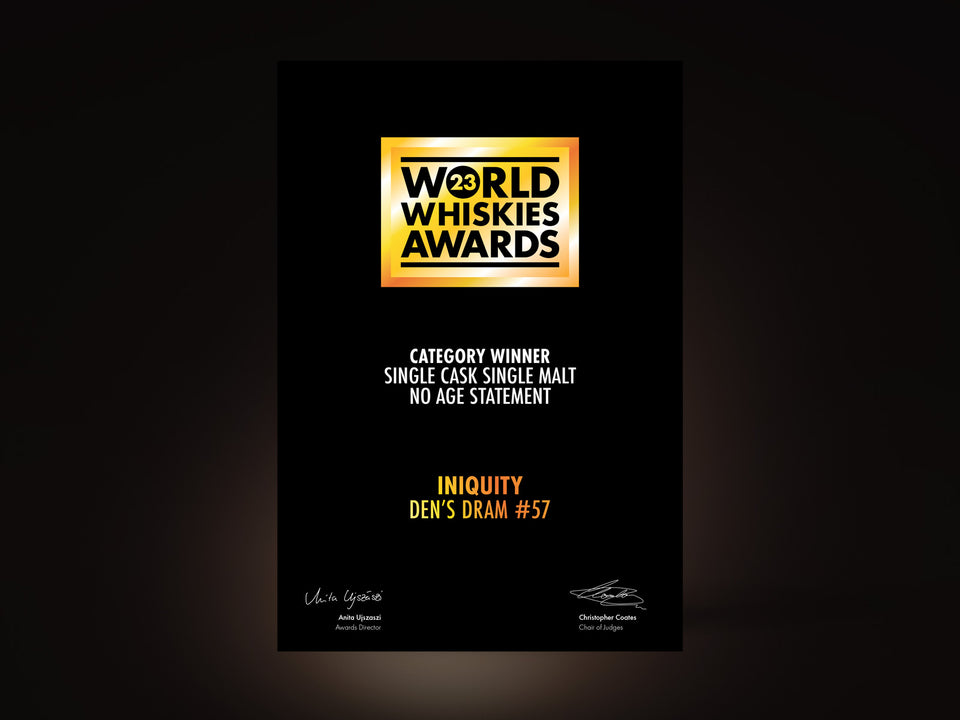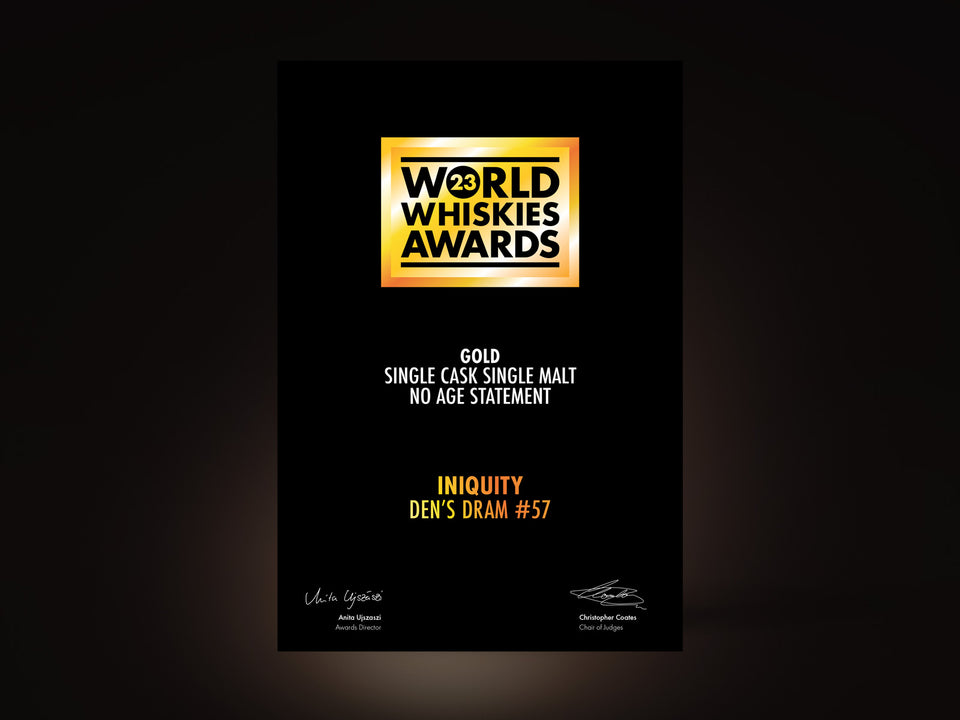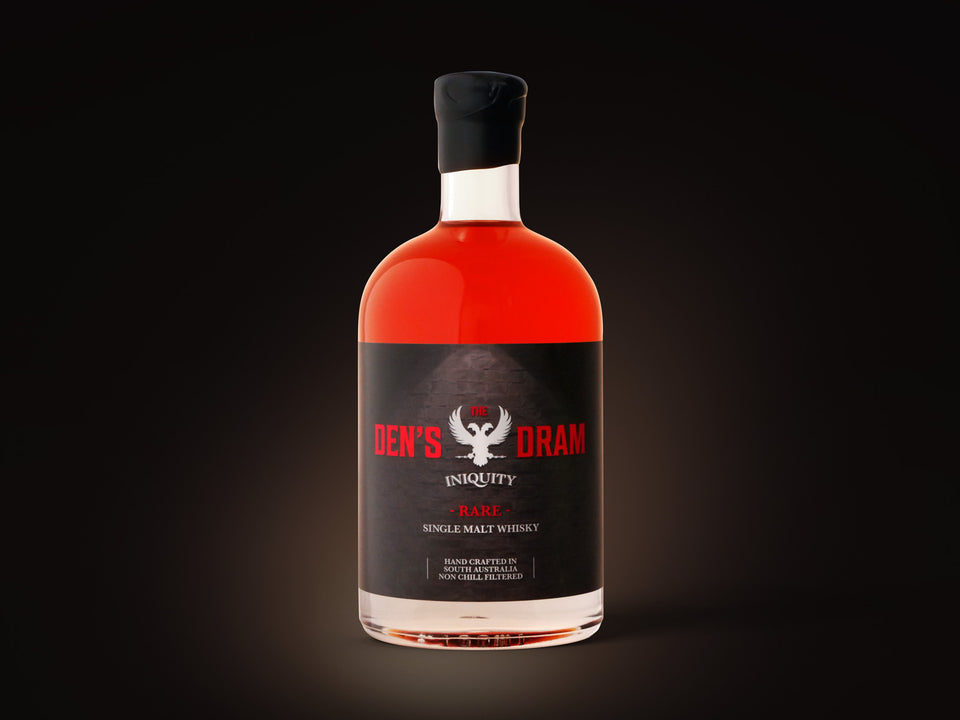 Iniquity Den's Dram – #57
DD#57-700
Awards
Gold + Best in Category - 2023 World Whiskies Awards 'Best Australian Single Cask Single Malt Whisky'

The second of the official Den's Drams
This whisky is truly worthy of being a Den's Dram. It is a very small batch release and it is exceptional. Matured exclusively for 4 years and 3 months in a 100 litre ex-port cask that originally held the spirit that became Gold Batch 3; #57 was refilled with spirit from malt smoked with peat from Pete's place at Parawa. It is tangible evidence that the barrel makes the difference.
We only filled 91 x 700mL bottles of #57 and they are only available right here through our virtual cellar door. Normal members' discounts apply. This bottling will be delivered in the new Iniquity Z-Box that provides exceptional product protection whilst in transit.
Tasting Notes
Nose
The initial hit is of smoke. The smoke drifts in and out of the picture, and whilst out there are notes of dark chocolate, red plums, honeycomb, dried mango, Cherry Ripe and toasted coconut, before the smoke comes back a little softer.
Palate
The mouthfeel is smooth and even. We would be tempted to say it has exceptional balance, except for the waves of flavour that keep changing and throw you off balance. Just as you start to luxuriate in the rich Cherry Ripe flavour, that disappears to be replaced by charcoal grilled pear, campfire and more butterscotch. For whisky at 56.8% it is deceptively gentle, dangerously so, because it would be very easy to slip into half the bottle before you knew it.
Add a few drops of water and set out on a Journey In Spirit. Add a few more and the journey continues, riding wave after wave of flavour.

Finish
The finish is long and it is easy to see behind the smoke as the final fading notes of butterscotch disappear.
Provenance
American Oak, 2nd fill ex-port cask.
4 Year Old
56.8% ABV  

Comment
Take this one straight to the Pool Room. A whisky you can get lost in for hours.