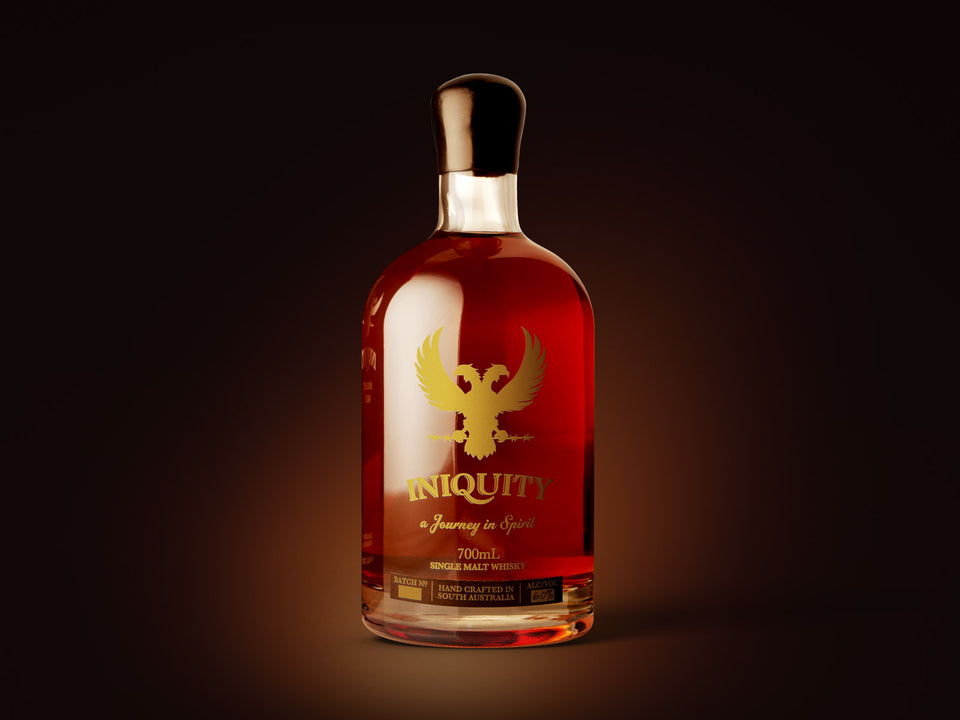 Iniquity Whisky Gold Batch No. 003
Awards
Gold - World Whisky Awards 2018

Tasting Notes
Nose
Fruity with warm brioche and mixed berry jam, then plum pudding. Lots of toffee, some lifted ethereal alcohol, fruchocs morphing into carob coated plums, sherry wood, some leather, toast and some earthy peat. Very well balanced between the gentle peat, the carob coated plums, the leather and a medley of mint toffee, crème brulee and crème caramel, especially retro-nasally. The longer it's left to develop the more obvious the port wood influence becomes.
Palate
Big, mouth coating, silky, a whack of sweet mint toffee and wintergreen with a decent dash of slightly sour and astringent woody herb (rosemary) and some cassia bark, toasty oak, buttered warm spiced fruit loaf, then some menthol or eucalyptus which gets very well integrated with the wintergreen and rosemary.
Finish
Long, warming and woody (mallee root), some drying peat, leather and refreshing bitter leaves (endive, witlof and rocket). The smouldering woodiness is persistent.
Provenance
American Oak Port Barrel Single cask
60% ABV
Comment
The balance in the nose is exemplary, yet nothing in the nose prepares you for the first sip: It's like jumping off a cliff into a lake and the finish is long and refreshingly bitter with some smoked and charred wood in there as well. Apart from a moment in the initial nosing the alcohol never makes its presence felt nor is it intrusive. Having been previously frustrated by our spirit's ability to absorb peat smoke, we smoked the barley in the barrel so much that we feared we may have overdone it, consequently we have watched the journey of this particular spirit with intense interest. At 3 months of age it was all smoke, at 6 months, smoke with some honey; at 12 months, more honey, at 18 months it was like licking a spoon full of honey with a hint of smoke in the background. At 2 years it had transformed completely and tasted very ordinary, a confused mix of flavours that was totally out of balance. Now, 3 months short of its 3rd birthday it has changed again and is one of the most interesting, best balanced and challenging whiskies we have produced.