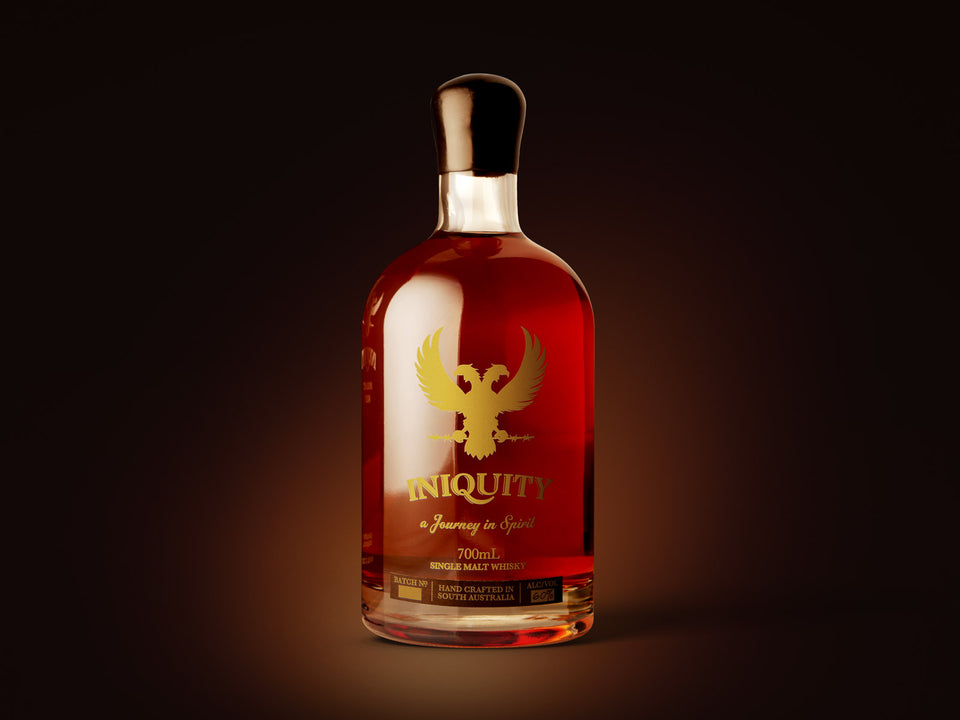 Iniquity Whisky Gold Batch No. 004
Awards
Gold - World Whisky Awards 2020
Silver - AUISC 2020

Tasting Notes
Nose
Honey on toast, lifted spirit, peanut brittle, mint toffee, wine gums, sour fruits (plums and cherries), obvious sherry/port barrel influence.
Palate
Warming, nutty (walnuts and pecans), syrupy, vine cane woodiness.
Finish
Drying, nutty, sherry or port influence, forward alcohol, lingering dry wood tannins.
Provenance
60% ABV
5 YO
Comment
Turbo-charged Iniquity. Youthful, rambunctious and wood driven with the characteristic house-style fruit and nuts.
A sister cask to the one that held Gold Batch 003, filled on the same day into the same type of cask that sat side by side. There are strong similarities between the two batches. The extra year has not tamed this whisky's spirit, it has turbo-charged it! Serious cask strength whisky nerds will love this dram, but if you find yourself overpowered by the alcohol and losing it in the corners, engage the traction control in the form of a few drops of water and the full and many pleasures of this dram will be revealed.