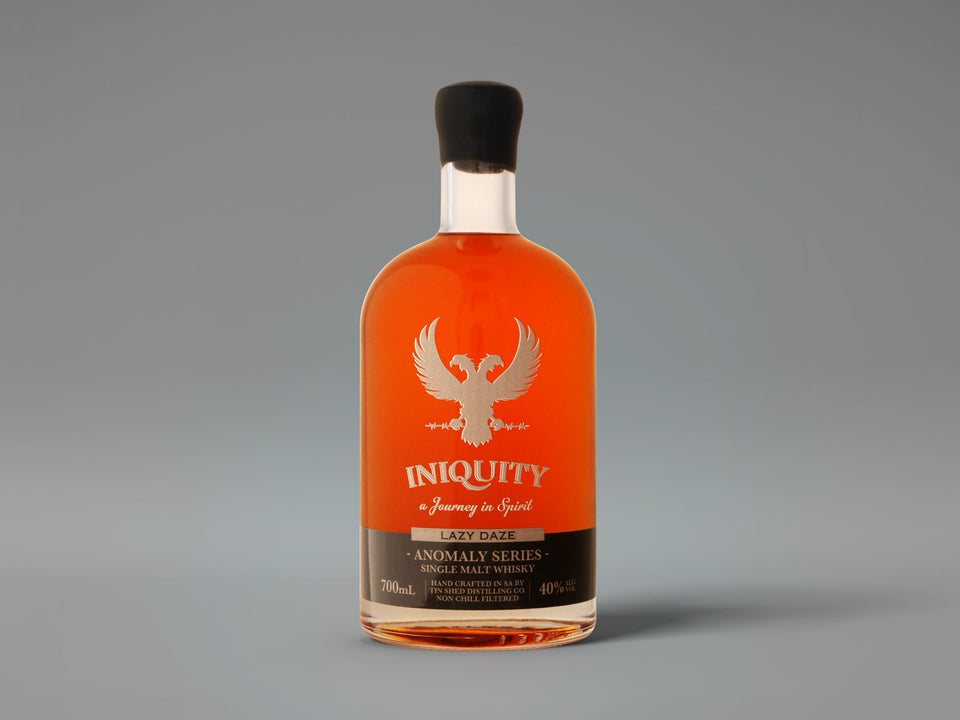 Iniquity Whisky Anomaly Series — Lazy Daze
ASLAZYDAZE-700
Tasting Notes
Colour
Coppery gold
Nose
Tart green apples, passion fruit, vanilla, pineapple and a note of new leather.
Palate
Huge! Citrus, banana, passion fruit.
Finish
Lingering, leathery and lovely with fruit mince and vanilla leaving you wanting more.
Provenance
40% ABV
3 years in Bourbon (78%), Shiraz (15%), Peated Tawny (3.5%) and Apera (3.5%) Barrels
Comment
In November 2022 Vic and I realised that whisky drinking is a winter sport. A G&T is fine on a hot day, but you can only drink so many before you start to aspire to enjoying the more sophisticated nuances of single malt. The problem was that most single malts are too heavy, too strong and too complex to be enjoyed in the way that you can when devouring a long drink over ice. So the solution to our dilemma appeared to be just drinking a whisky highball, a malt and mixer. That was fine, as far as it went, but what was missing for us was a dram that was light enough and simple enough to be enjoyed over ice or with a mixer, but still had sufficient weight and complexity to be enjoyed and savoured neat.
The deign brief was not complex, but it was challenging as the parameters were to some extent contradictory. We needed to make the whisky light enough that it was pleasant to drink on a hot day, but not so light that it would be drowned by mixers, tamed by ice, or be insipid neat on a cold winter day. The result was a Den's Dram limited release called Lazy Daze.
In the year since we created Lazy Daze it has proved to be one of our most popular releases when exhibited at tastings. The obvious reaction is to introduce Lazy Daze to the wider whisky drinking community as a core range product.
A young bourbon barrel was the obvious choice as it produces whisky with fresh, light, tropical fruit flavours. Reducing the alcohol to 40% was a good start too as that reduced the excise and the price considerably. This also made Lazy Daze much more approachable on a hot day but left it a bit thin in the flavour department, in need of a tweak. To beef it up a little we added a touch of shiraz cask matured whisky and then gave it a wee bit of smokey port matured whisky to lend complexity.
The result is Lazy Daze. Some might call it a Breakfast Whisky. We call it a Summer Whisky because it isn't PC to be drinking all day! It is light and sophisticated and the tropical fruit notes, especially pineapple, on the nose and palate carry through to the finish and it is very easy drinking indeed, but with enough character to work as a winter warmer consumed neat. If you are looking for a thirst quencher this summer we recommend it over ice, with lemonade and a splash of orange bitters. Garnish with a slice of orange.